About ELC
ELC management chain
Pharos University in Alexandria launched the English Language Centre (ELC) in the summer of 2010 with one aim in mind: raise the standard of English of its undergraduate students and prepare them for the workplace.
Serving twelve faculties, the ELC at Pharos University provides English language instruction to all undergraduate students. The centre provides a variety of courses: academic, business and general to enable students to meet the challenge of real life.
The ELC mission is to provide English language instruction of the highest quality, in which university students can enhance their English skills. Our professional staff and master holder instructors focus on each student's personal, academic and professional goals; hence they deliver high quality service, and instruction.
The ELC strives to create a learning environment that is intellectually stimulating and interesting.
The Pharos University English Language Centre has a variety of programmes for its undergraduate students, including:
Undergraduate English Courses: five levels E1, E2, E3, E4, E5
ESP Courses: English for Business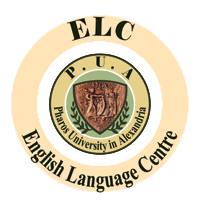 PUA English Language Centre also offers:
Cambridge CELTA:  EG211 was the first authorised centre in Alexandria to deliver the CELTA ( Cambridge Certificate in Teaching English to Speakers of Other Languages ). CELTA is an introductory course for those who have little or no previous English Language teaching experience. It may also be suitable for teachers with some experience but little previous training. Check. PUA CELTA
Teacher Training Workshops: One day and/or intensive training workshops that serve teachers and educators in Alexandria and help them develop professionally. All workshops are delivered online / or face to face at PUA. Find out more about Pharos University Professional Development Unit (PDU).
Webinar : Pharos University in Alexandria English Language and Training Centre announce starting a PD initiative " ELC Biweekly Webinar Series". Our speakers who are experts in ELT for many years aim to deliver effective and fruitful sessions for you all. They volunteer to pass on their knowledge. These webinars are free of charge and designed for all English teachers working in mainstream education. Our webinars are different as they are not just a presentation! All

participants

will go away with new and applicable ideas.
General English Courses: These courses serve the community with discounted prices. They are offered all year long.Interested applicants will need to take a placement test first.
Pharos University English Language Centre offers IELTS preparation courses to prepare candidates for the exam.
DELTA: the Diploma in Teaching English to Speakers of Other Languages, is one of the most highly regarded and recognised advanced qualification for experienced English language teachers. Take your DELTA with NILE