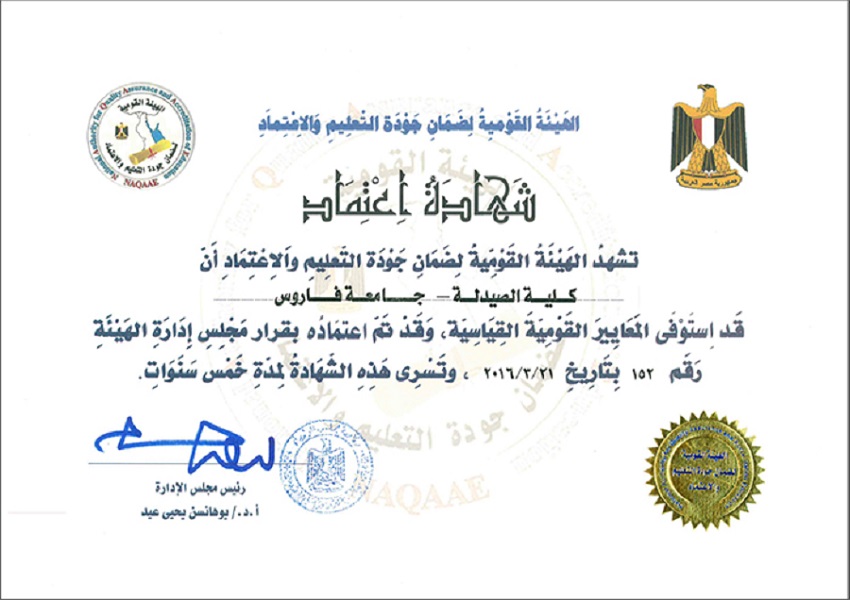 Quality Assurance Unit
1.Vision of  QAU
2.Mission of QAU
3.Strategic Goals and Objectives of QAU
4.Organizational Structure
Faculty Organizational Structure.
Organizational Structure Of QAU.
5.Committees
Faculty Committees 2019 – 2020.
QAU Committees 2019 – 2020.
6.Faculty Plans
Strategic Plan 2018 – 2023.
Strategic Plan of Scientific Research.
Community Service and Environmental Development Plan  2019 – 2020.
QAU Annual Plan 2019 – 2020.
QAU Training Plan for teaching staff member 2019-2020.
QAU Training Plan for administrative team member 2019-2020.
7.Other Plans
Faculty Evacuation Plan.
Crisis and Disaster Management Plan.
8.Bylaws
Internal Bylaw for Pharos University.
QAU Internal Bylaw.
Internal Bylaw for the Undergraduate/Bachelor Degree.
Internal Bylaw for the Postgraduate Studies.
Information and Decision Support Unit (IDSU) Bylaw.
Research Center Regulations.
International Publication & Nanotechnology Consultation Center (INCC) Bylaw.
Summer Training Bylaw.
Exams Internal Bylaw.
Occupational Safety & Health and Work Environment Management Bylaw.
9.Program Specifications
Bachelor Degree.
Postgraduate Degree.
10.Reports
​QAU Annual Report.
Program Report.
11.Mechanisms
Complaints and Suggestions Mechanism.
Mechanism of Petition For Re-Monitoring of Marks.
International Students Attraction Mechanism
Exams Results Documentation Mechanism
12.Criteria
National Academic Reference Standards.
Criteria for Selecting Academic and Administrative Leaders.
13.Guidebooks
Ethics Charter Guidebook.
Ethics of Scientific Research Guidebook.
Student Guidebook.
Job Description Guidebook.
Intellectual Property and Copyrights Guidebook.
Academic Advising Guidebook.
The Facilities of the Faculty.
Questionnaire Guidebook.
14.QAU Activities
15.QAU Achievements
16.Self-Study of the Faculty of Pharmacy

17.Other Documents
Teaching and Learning Strategy.
Evaluation Methods.
Acceptance and Transfer Policies Methods.
Human Resources of The Faculty.
18.Gallery
Quality Assurance Unit of Faculty of Pharmacy
Internal Telephone: (+203) 33877 148
Head of Quality Assurance Unit : Dr. Shaimaa Khamis