ELC Webinar Series
We're delighted to announce that Pharos University is starting a PD initiative "ELC Webinar Biweekly Series".
Our speakers who are experts in ELT for many years aim to deliver effective and fruitful sessions for you all. They volunteer to pass on their knowledge. These webinars are free of charge and designed for all English teachers working in mainstream education. Our webinars are different as they are not just a presentation! All participants will go away with new and applicable ideas. Participants will receive a certificate of attendance for each webinar they attend.
See you in April!
Date
Subject
Time
Speaker
April 12th, 2022
Practising Grammar and Vocabulary in the Write Way
12:00 P.M

(Egypt's time)

Lucie Cotterill
April 14th, 2022
Drama Activities to Teach Advanced Spoken Communication Skills
9:00 P.M

(Egypt's time)

Walton Burns
April 21st, 2022
Asset-based teaching approach
10:00 A.M

(Egypt's time)

Dr. Ilene Winokur
April 28th, 2022
Strategies for Teaching Content to English Learners
9:00 P.M

(Egypt's time)

Sara Levitt
Practicing Grammar and Vocabulary in the Write Way
Lucie Cotterill
April 12th, 2022 @ 12:00 pm Egypt's time
Link to register: https://zoom.us/meeting/register/tJwkf-2srDsjHNWyNlPw8bPHmM2BCJB35VaR
In this practical and interactive workshop, we will examine different types of writing tasks, and look at the benefits of including writing tasks in lessons.  We will be exploring some engaging writing activities which can work with a range of class sizes, both online and offline, and there will be the chance for you to share ideas and experiences with fellow teachers from around the world.
Lucie is a teacher, academic manager, and teacher trainer based in the South of Italy, where she works for IH British School Reggio Calabria as Director of Innovation. She has been in ELT for 20 years, during which time she has taught a range of learners and has held various academic management roles. Lucie is also the DoS Community Coordinator for IH World and tutors on the IH OTTI courses which form part of the IHWO Diploma in Academic Management. She is a member of the AISLi Educational Committee and has also recently joined the committee of the IATEFL Inclusive Practices and SEN SIG as Social Media Coordinator. She is a local tutor for the DELTA Module 2 and a Cambridge English Speaking Examiner. In her free time, Lucie is a puzzle enthusiast who loves walking in nature and watching stand-up comedy.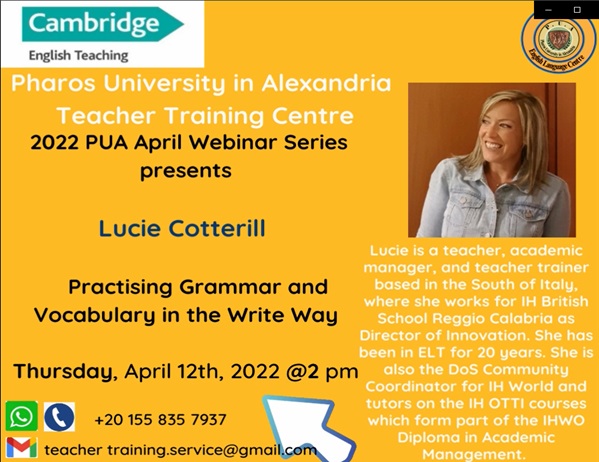 ---
Drama Activities to Teach Advanced Spoken Communication Skills
Walton Burns
April 14th, 2022 @ 9:00 pm Egypt's time
Link to register: https://zoom.us/meeting/register/tJYpdOisrj8sEtd8o5jlX_b7-7WeHlWBuSuP
Our teaching materials rarely address the wide range of communicative tools that we use when we speak beyond grammar and vocabulary.. Effective oral communication requires the use of intonation, rhythm, volume, body language, and more. It also requires an understanding of context! In this workshop, I'll share some simple engaging drama activities that help raise students' awareness of these often neglected communication tools.
Walton has been teaching since 2001 when he joined the Peace Corps as an English teacher in the South Pacific. Since then he's traveled and taught Kazakh oil executives, Afghan high school students, Saudi royals, and Vietnamese video game champions! He started Alphabet Publishing as a self-publishing enterprise but it quickly grew. We specialize in creative and innovative language learning resources that are a bit outside the box. All our materials are 100% teacher-created, classroom tested, and student-approved!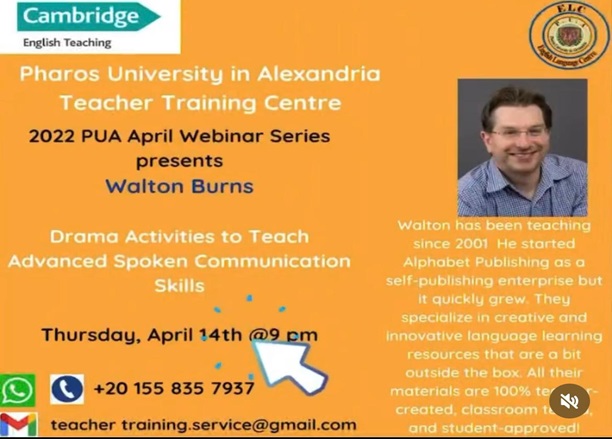 ---
Asset-based teaching approach
Dr. Ilene Winokur
April 21st, 2022 @ 10:00 am Egypt's time
Link to register: https://zoom.us/meeting/register/tJElce6trDsiGNU0xxhpvXBbTJnIvn37oR3U
Dr. Winokur will explain the importance of an asset-based mindset on supporting a sense of safety and belonging in our students that's essential to their learning and achievement. She will also share practical ways to change our mindsets, so we can support all of our students to succeed.
Dr. Ilene Winokur has lived in Kuwait since 1984 and is a professional development specialist supporting teachers globally including refugee teachers. Ilene has been active in learning innovation for over 35 years, is an expert in professional development, and passionate about narratives related to belonging. Prior to retiring in 2019, she was a teacher and administrator at the elementary and pre-college levels for 25 years in Kuwait and specialized in ESL. Her blog, podcast, and book focus on the importance of feeling a sense of belonging. Ilene strongly believes in bringing communities together with her focus on professional belonging; learning and collaborating in a professional setting.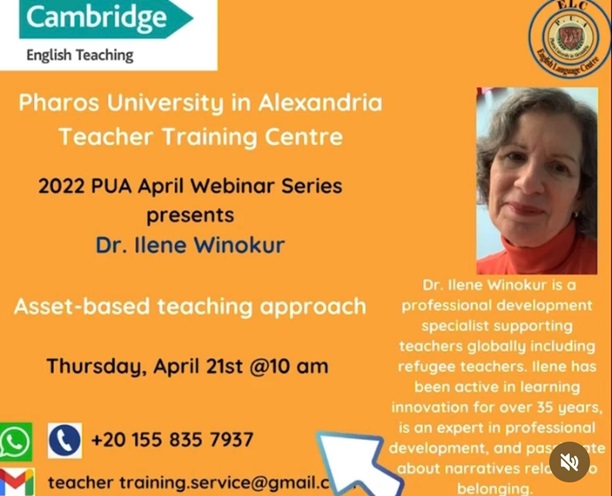 ---
Strategies for Teaching Content to English Learners
Sara Levitt
April 28th, 2022 @ 9:00 pm Egypt's time
Link to register: https://zoom.us/meeting/register/tJwrd-uoqz8oG9WogHiv6fh_BiBrTDoasyBU
Join this interactive session to explore strategies that can be used to serve English Learners in the mainstream classroom.  A balance of supported content instruction and opportunities to develop and practice academic language is required for English learners to be successful. Discover new ways to present content when students have varied levels of English proficiency. Explicit vocabulary instruction, experiential learning practices, and highly interactive tasks will be discussed. Walk away feeling validated by your use of current strategies and armed with some new tricks!
Sara Levitt is an educator who has a passion for working with teachers and administrators to better the educational experience for all learners. She is the founder of SJL Educational Consultants and teaches graduate courses at Walsh University, Ohio Dominican University, and Muskingum University in Ohio. Described as funny, dynamic, and engaging, Sara creates a learning environment that benefits teachers with different levels of experience. She specializes in English learners and is particularly adept at supporting diverse populations as well. Sara is a past president of the Ohio TESOL Board and currently serves as Director of Marketing and Communication.