Faculty Of Physical Therapy Dean Welcome :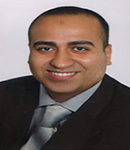 My dear students, welcome to PUA's Faculty of Physical Therapy, whose ultimate goal is to achieve leadership in the field of physical therapy. This is achieved through graduating strong students according to modern methodological and scientific foundations for community service, and gaining them the ability to compete at the local, regional, and global levels.
The Faculty also helps students and graduates reach outstanding academic achievement and continuous evidence-based scientific research through coherent and integrated curricula that meet the global standards and modern scientific research. It also gives due attention to clinical training in various specialties of physical therapy. In addition, the Faculty seeks to build the students' scientific and research skills through student sporting, artistic, cultural, and other activities, to develop their skills and abilities and promote their sense of loyalty and national belonging.
Furthermore, the Faculty follows an effective leadership system in solving students' problems to overcome difficulties and obstacles, whether academic or social, through effective academic advising. The Faculty spares no effort to serve students and secure their future, and to serve our beloved Egypt.
Prof. Dr. Amr Abo Gazia
Dean, Faculty of Physical Therapy, PUA
The External Clinics Include The Following Departments:
Clinic for orthopedics and surgery, post operational rehabilitation and sports injury.
Clinic for disabled children suffering delayed motor skills
Clinic for neurological disorders and its surgery
Clinic for electromyography and nerve conduction velocities
Clinic for women health.
Outpatient Clinics – Pharos University
The clinics receive the revealed cases in orthopedics, traumatology, neurology, neurosurgery, pediatrics, delayed motor development, diabetic feet and sports injuries under supervision of faculty members in addition to EMG unit. For more info Please Click here
Physical therapy is considered one of the crucial medical fields which depend on application of different therapeutic interventions and rehabilitation of patients to reach self-dependence and regain normal life activities without any side effects (difficulties).
Therapeutic programs are being applied in the faculty of the physical therapy under the supervision of the faculty stuff members.
Committed to offer developed and safe medical services in different domains of physical therapy to accomplish the needs and desires of the patients and children based on high therapeutic criteria.
Anatomy Museum
The museum contains 83 specimens from Somso Company (Germany) and 3B company (American). The specimen simplifies teaching of anatomy of Head and Neck, Brain, Upper Limb, Lower Limb, Abdomen and Thorax.
The specimens are categorized into different regions of the body.
Explanatory boards are located beside each specimen to encourage self-learning process for students. to know more about facilities Click here