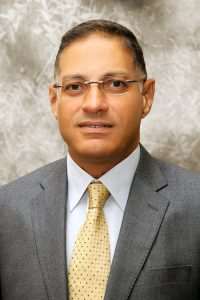 Faculty of Engineering Dean Welcome:
June 2011 was the first graduation of students from the Faculty of Engineering – Pharos University. Since establishing the Faculty in 2006, the university administration and faculty were keen on providing an outstanding learning environment with distinct and developed methods of teaching and learning. The Faculty grants Bachelor Degrees in eight disciplines of Engineering, so as to meet the requirements of the labor market. The Faculty also seeks to establish post graduate studies in various disciplines, Diploma and Masters Programs, in addition to specialized professional diplomas.
The faculty embraces a group of extinguished faculty members, assistants and technicians that work hard with dedication to provide excellent education and field training opportunities that provide practical skills and implements diverse student activities. The laboratories and workshops of the faculty also contain advanced tools and equipment.
My best wishes,
Prof. Mohamed G. Abouali
Dean of the Faculty
Departments
The Faculty of Engineering includes the following departments each with its specific specialization:
In addition to the Department of Basic Engineering Sciences which provides services for all the departments of Engineering faculty
The faculty of Engineering has recently signed a cooperation protocol in the contest "Towards a Sustainable Future" initiative with Birla Carbon Company.
A contest organized in 2017/2018 for (graduation projects) under the initiative and three projects won the contest
Students joining the KTH-PUA programs shall get, when graduated, two certificates, one from PUA accredited by the Egyptian Supreme Council of University and the other from KTH recognizing the awarded PUA B.Sc. Degree in Engineering.
KTH-PUA programs introduce the concept of "Swedish" quality engineering education at PUA that achieves the highest level of engineering education and research at PUA.
Students are prepared and have the chance to pursue their Master and PhD studies at KTH in Sweden or any other European countries.
PUA graduates are provided with the professional, analytical, and technological skills which enable them to compete in global job markets.
Programs encourage cross-cultural exchanges between faculty members and students at the undergraduate and postgraduate levels that will provide participants with an opportunity to study and benefit from the academic and cultural environment of each other.
Fully equipped labs and advanced workshops.
Employing the latest teaching and learning methods to develop the students' skills.
Opening up opportunities of field training for the students.
Organizing on and off campus field trips.
Career Opportunities:
The Faculty of Engineering – Pharos University provides the community with outstanding engineering education and professional skills with high blending engineering sciences and technology with management in the areas of Architecture, Computer Engineering, Electrical Engineering (Power – Communications Specializations), Mechanical Engineering, Petrochemicals Engineering, & Construction Engineering and Management.
A Professional Training Program in the Field of Lighting "Lighting Design in Projects"
The First –of- its- Kind Program in Egypt and Arab World
The Professional training program in lighting graduates distinguished people in the field of lighting, equipped with scientific and professional information that enables them to conduct studies and designs for lighting projects depending on the specifications of international standards applied in the most advanced European and American countries following the sustainable developments and the sustainable development goals Read More