Teaching halls & Laboratories :
The faculty has 2 main lecture halls with a capacity of 300 students and well equipped with audiovisual aids such as microphone, data show and projectors.
There are 6 tutorial rooms equipped with audiovisual facilities for 150 students and 5 class rooms for 36 students.
All the rooms are provided with good lighting system and ventilation.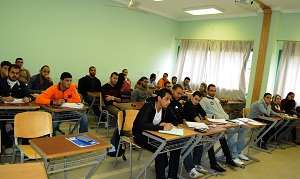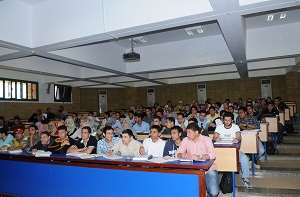 All laboratories are well equipped according their specialties and include all safety measures.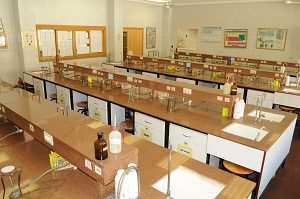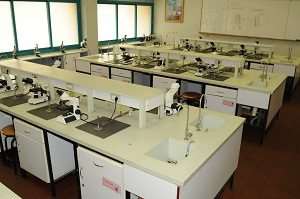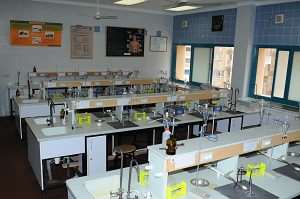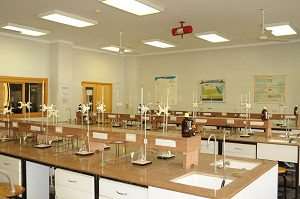 Analytical & Pharmaceutical Chemistry Lab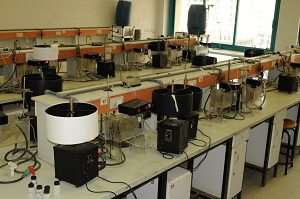 Pharmacology and Toxicology Lab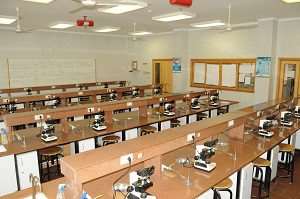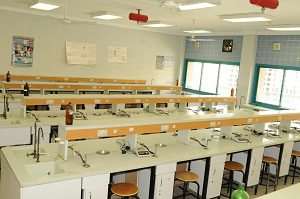 Library:
The faculty has a library for reference books in the different specialties with area of 30*8 m2.
The library is opened from 8:00AM to 3:00PM and is closed on Friday.
The library is served by 6 computers for general use, wireless network connection and DSL.
Industrial Pharmacy Lab:
A well equipped Industrial Pharmacy Lab (IPL) has been founded in 2008 with the aim of introducing the undergraduate students to the state of-the art technologies applied to the development of various drug dosage forms.
The IPL is divided into two large units:
The Drug Manufacturing Unit: in which the student is learning the small scale production of different drug-dosage forms. The equipment used include V-shaped mixer, dry & wet granulators, vibratory sieve shaker, tablet press, coating pan, pelletizer, ovens, high speed digital homogenizer and others.
Quality Control Unit: in which the student evaluates the prepared dosage forms by carrying out the specific quality control testing, using different equipment including the Hanson Research Dissolution Tester, Disintegration Tester, Hardness Tester, Friability Abrasion Tester, Suppository Disintegration Tester, Projection Microscope, Rotational Viscometer, Ultraviolet-Visible Spectrophotometer, Flow Angle Tester, Tapped density tester, Infrared Moisture Determination Balance and others.
Pharmaceutical Care Centre (IN-House Pharmacy Training Program) (IHPTP):
Pharmaceutical Care Centre: (In-House Pharmacy Training Program) (IHPTP) designed to provide students with necessary skills and knowledge before their training in the community pharmacy to ensure a high-quality advanced pharmaceutical practice experience.
Aim and objectives of Pharmaceutical Care Center:
The Pharmaceutical Care Center aimed to simulate Institutional/Ambulatory Pharmacy practice environment that will enable student to develop the following professional competencies:
Evaluate drug orders or prescriptions accurately and safely compound drugs in appropriate dosage forms, and package and dispense dosage forms.
Manage systems for storage, preparation, and dispensing of medications, and supervise technical personnel who may be involved in such processes.
Apply computer skills and technological advancements to practice.
Communicate with health care professionals and patients regarding rational drug therapy, wellness, and health promotion.
Design implement, monitor, evaluate, and modify or recommend modifications in drug therapy to ensure effective, safe, and economical patient care.
Identify, assess, and solve medication-related problems; and provide a clinical judgment as to the continuing effectiveness of individualized therapeutic plans and intended therapeutic outcomes.
Evaluate patients and order medications and/or laboratory tests in accordance with established standards of practice.
Evaluate patient problems and triage patients to other health professionals as appropriate.
Monitor and counsel patients regarding the purposes, uses, and effects of their medications and related therapy.
Understand relevant diet, nutrition, and non-drug therapies.
Recommend, counsel, and monitor patient use of nonprescription/herbal drugs.
Retrieve, evaluate, and manage professional information and literature.
Use clinical data to optimize therapeutic drug regiments.
Evaluate and document interventions and pharmaceutical care outcomes.
The Animal House:
This building is composed of 4 air-conditioned rooms each equipped with multi-shelved racks to accommodate rat cages. Sprague Dawley rats of both sex and diverse weight range are available to fulfill requirements of PUA Pharmacy students and post-graduate research purposes. Also, PUA animal house started to put up rats for sale for researchers in the faculty of Pharmacy, Medicine, Science and Agriculture. As to guarantee general animal care, well-trained personnel are in charge of rat housing, feeding, breeding and sanitary measures.