The Faculty of Applied Health Sciences Technology Holds Its Monthly Scientific Forum
December 3, 2019@12:30 pm

-

2:30 pm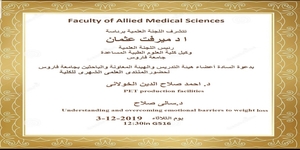 Under the auspices of Prof. Ezzat Hassa, the Dean of the Faculty of Applied Health Sciences Technology and Prof. Mervat Ossman, the Vice Dean and the Head of the Scientific Committee, the monthly scientific forum of the faculty is organized on Tuesday, 3 December 2019. The forum addresses the following topics:
A session on PET (Positron Emission Tomography) Production Facilities which is delivered by Dr. Ahmed Salah El Din, a Lecturer in Chemistry at the Medical Laboratory Department.
A session on Understanding and Overcoming Emotional Barriers for Weight Loss which is delivered by Dr. Sally Salah, a Lecturer in Nutrition at the Nutrition and Food Safety
Invitation is open for all the academic staff members and researchers at Pharos University.