Charity Market
The faculty of Pharmacy organized a charity market with the cooperation of the student activity administration. It was held at
Read more.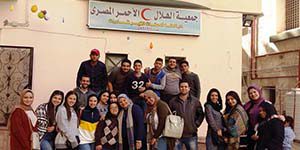 Fun Day for the Students of Petrochemical Engineering
In the framework of the entertaining trips; the second and the third year students of the Faculty of Engineering, supervised
Read more.
Orphans Day Ceremony
Student activity administration – Pharos University will organize an Orphan Day ceremony and about 400 children will participate in this
Read more.
Gaming day
The faculty of Engineering with the management of the student activities held a gaming day that was an amazing day
Read more.
The Mother's Day
The faculty of languages and translation organized an honoring ceremony for the women workers at the faculty of languages and
Read more.
Mother's Day Celebration
The faculty of Allied Medical Sciences organized a celebration of the mother's day on Tuesday, 19 March, 2019. This was
Read more.
Orientation day for apex team
Apex Team held an orientation day on Tuesday, 19 March, 2019. This was held from 12.30 pm to 2.30 pm
Read more.