ELC Professional Development
Adrian Underhill Pronunciation Course 2018
The course will take place from June 3rd to June 7th, 2018. Please pay a deposit of 50 USD in order to secure your seat.

Getting pronunciation out of the head and into the body
At Pharos University English Language Centre, Alexandria, Egypt

Programme description
Every lesson is already a pronunciation class, even if you do nothing about it. How can we turn this fact to advantage, enjoyably and successfully? How can we fully integrate pronunciation into our work on grammar, vocabulary and connected speaking?
How can we make pronunciation part of the glue that enables learners to fix and retain language, to reach easy intelligibility in their speaking and listening, to feel confident in themselves and to enjoy their learning?
This programme will develop insightful and practical answers to these questions, and enhance participants' skill and confidence in their own pronunciation, and in bringing pronunciation learning to life.

Hands-on practical work beginning to end
This is a hands-on training programme of "doing pronunciation" involving working on sounds, words and connected speech for yourself and in your teaching.
You will develop your understanding and insight intp pronunciation and how it works in your muscles, breath and voice, learn and try out new teaching and learning techniques, receive practical guidance and tips, do micro teaching and relate this to your own teaching style.
You will receive a copy of the pronunciation chart for your classroom. 30 hour intensive programme. 30 participants.
To know more about Adrian Underhill, visit his website: http://www.adrianunderhill.com
and watch one of his videos:https://www.youtube.com/watch?v=1kAPHyHd7Lo
For further queries, call +203 3877 342/347 or
We welcome participants from outside Egypt. Click here for information on Alexandria. Click https://www.tgphotels.com/ for accommodation options
Listening and Reading workshop for Pharos University, Alexandria
Thom Kiddle (6- 8February, 2018)
Workshop 1: Reading for Skills and Language development
Workshop 2: Listening for Listening Skills Development
Workshop 3: Listening and Reading for Developing Speaking Skills
The three-day workshop started by focusing on a preconception of the role of grammar in language teaching. Thom adopted a revolutionized approach to teaching grammar through developing teacher language awareness. The session mainly had a holistic grammar perspective; investigating how teachers can look beyond the way grammar is presented in course books in order to make it useful for learners in real life. The second day explored strategies and activities for developing reading skills discussing the benefits of teaching extensive and intensive reading skills by using international exam papers. Participants were encouraged, by the end of the day, to look beyond the question types to identify the measured skills and testing them, and focus instead on choosing student-enticing texts. Thom included digital tools that can inform teachers how to extend students vocabulary range and the use of structures. Finally, the last day focused on listening skills using Field's 2012 cognitive framework of listening to identify different aspects of listening skills. Thom used a range of web-based sources for activities to help teachers engage students so that they can gain real life listening practice skills.
Training Brief
Training task
For more photos Click here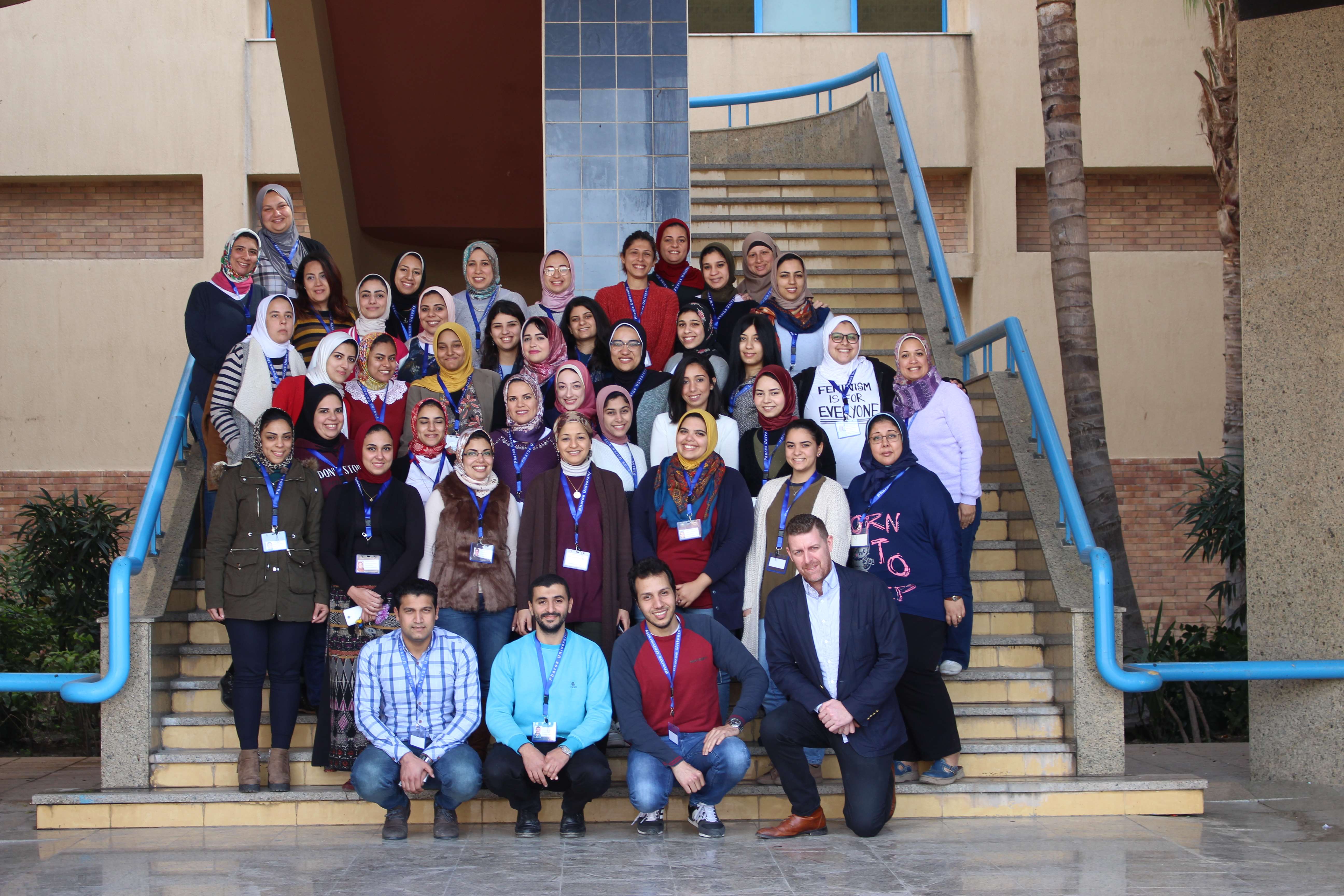 Pharos University and AUC Testing and Assessment Workshop
ELC's Professional Development Unit- Pharos University was pleased to cooperate with the American University in organizing a one-day workshop entitled "Testing & Assessment"
This workshop was held on 8th April 2017, from 9 – 3, during which 3 workshops had been given. Two of ELC teachers had set up the first workshop entitled "Alternative Assessment". The second one was held by Dr. Ramy Shabara with the title " Task Based Assessment". The final workshop was run by Ms. Hanaa Soudan entitled "Integrating Critical Thinking in ELT".
The training was attended by approximately 280 English teachers, supervisors and a large number of students from Faculty of Education – Damanhur University.
By the end of the workshop, ELC's Professional Development Unit carried out a survey to know the attendees feedback. The attendees filled the survey and showed their interest to attend more workshops organized by ELC's Professional Development Unit.
• For more information, please contact us: 03 3877347 / 342 Or visit our website: http://www.pua.edu.eg/education/centers/elc/professional-development/
For more photos click here
Teacher Training especially for teachers of English from governmental schools
ELC's Professional Development Unit- Pharos University was pleased to set up one-day teacher development training especially designed for teachers of English teachers, governmental supervisors of English in Alexandria. The training focused on the new methodologies in Teaching English. The training was attended by 85 English teachers, coordinators, school supervisors and heads of departments from different schools in Alexandria.
At the beginning of the training, Mr. Nasef Maher gave a talk supporting Pharos University's efforts to improve the English teachers' professionalism in Alexandria.
The training included 4 workshops entitled: "Tenses 3D View", "Helping Students become Better Writers", "Using Short Films and Documentaries to Boost the Students' Speaking Skills" and "How to Plan your Career Pathway as a Teacher of English?".
The trainees filled a survey suggesting topics for next training sessions. Most suggestions were related to methods of teaching speaking and writing, as well as how to put exam questions.
It's worth mentioning that this training session reflects PDU's beliefs, as the Unit is looking forward to set more training sessions and workshops.
For more information, please contact us: 03 3877347 / 342
Or visit our website: http://www.pua.edu.eg/education/centers/elc/professional-development/
For more photos click here
The 2017 Pharos University Professional Development Unit Workshops
Using Literary Texts in Classrooms
For more photos Click here
The 2016 Pharos University Professional Development Unit Workshops
For more photos Click here
​Exam Item Editing Workshop photos Click here
PUA Professional Development Unit
A unit that serves teachers and educators in Alexandria and helps them develop professionally as teachers of English.
Are you ….
a novice teacher who wants to know the principles and practices of ELT?
a teacher who aims at developing their teaching career?
a teacher who aims at extending their knowledge of ELT methodology?
an experienced teacher who aims at further extending their experience and ELT knowledge?
a teacher who aims to be promoted to managerial posts?
​Book your teacher training courses with PUA Professional Development Unit.
Courses offered:
Management in ELT
Testing, Evaluation and Assessment
Advanced language, Materials and Methodology
Materials Development in ELT
From Teacher to Trainer
Teaching Young Learners
Lesson Planning
Classroom Management
Language Analysis and Awareness (Teaching Grammar and Vocabulary)
Teaching Receptive Skills (Reading and Listening)
Teaching Productive Skills (Writing and Speaking)
All workshops are delivered face to face in PDU -PUA and/or at schools. Call us to check school discounts.
Some courses are offered online- Check group discounts for online courses booked through PUA.
​
​For more info, call us 03 3877 342 / 231/ 347
Or visit our page and post a question
https://www.facebook.com/Cambridge.CELTA.Alexandria/
​Or visit PUA Professional Development Unit located on the first floor of the Humanities and Social Studies Building – Room D135
​
Pharos University in Alexandria (PUA) is keen to provide continuous professional development training for the community's English language teachers. Every month, PUA English Language Centre invites all English teachers to attend a one-day free training workshop (to follow up on our next training workshops, click here). Cambridge tutors and PUA CELTA certified teachers work together hand in hand to deliver sessions that focus on practical classroom ideas. Trainers and attendees look closely at a number of student-centred techniques.